Less Pain. Less Discomfort. The Laser Alternative to Traditional Gum Surgery.
Want to Learn More About LANAP?
Curious to learn more about this revolutionary, state-of-the-art procedure? Click below to download the LANAP Education Pack.​​​​​​​
​​​​​​​
View The Stages of Gum Disease
A LANAP Recommendation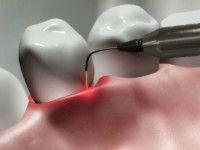 Advanced Dental Laser in Loma Linda, CA
What is LANAP®?
The LANAP® laser protocol is the most advanced and least painful way to treat gum disease and save teeth in Loma Linda, CA. If given a choice, more patients would choose laser gum surgery with Dr. Roger Sohn and his exceptional laser gum treatments.


LANAP® Treatment is Minimally Invasive Laser Gum Surgery
Treating moderate to severe gum disease with conventional scalpel surgery is a pretty painful experience for most patients, which is why so many avoid it. Dr. Sohn does it differently, using the FDA cleared LANAP® laser protocol. Laser gum surgery is the fastest and most minimally invasive way to safely and completely remove bacteria from periodontal pockets without causing any significant pain, swelling, or gum recession.

Dr. Sohn uses the PerioLase® MVP-7™, one of the most advanced dental lasers in Loma Linda, CA to perform LANAP® treatment. The FDA cleared PerioLase® MVP-7™ has the distinctive capability to identify bacteria and diseased tissue deep inside periodontal pockets and vaporize them on contact without ever touching or harming neighboring gum tissue the way the scalpel does. The extreme accuracy and selectiveness of the laser makes the procedure much more efficient, outcomes more predictable, and recovery easier than ever before. Reattachment of the gum tissue to the surface areas of the teeth is also accomplished with a compression technique instead of sutures and grafting.

Patients who have laser gum surgery experience unique benefits long after the procedure. Laser activates new bone growth around existing teeth to give them greater stability and chance of survival. More gum disease patients who choose laser gum surgery are holding on to teeth they thought would fall out or require extractions. Human histological studies show the same results. The fact is, laser gum surgery gives patients unique results that no other gum disease treatment can provide.

For moderate to severe gum disease, laser gum surgery works. To schedule your consultation for modern therapy with a dental laser in Loma Linda, CA, call Dr. Sohn today.

Dr. Sohn's office is equipped with the latest in hi-tech dental equipment and our staff is trained to provide the best possible dental experience for you and your family. We take pride in the service we provide to our patients from Loma Linda. If you have any questions, concerns, or would like to schedule an appointment for your laser gum treatments, please send us a message via the Contact Us form today. We look forward to providing you with the personal oral care you deserve.