Early Interceptive Orthodontic Treatment Can Save Teeth, Time and Money
Myobrace Helps With These Problems
Gummy teeth
Crowded teeth
Overbite
Underbite
Openbite
Crossbite
Spaces between teeth
Thumb sucking
Mouth breathing
An Intro to Myobrace®
What Can Happen If I Ignore It?

If myofunctional habits are left untreated, you could be looking at any number of issues arising. A few examples of these problems are listed below:
Poor facial growth
Unstable orthodontics
TMJ disorder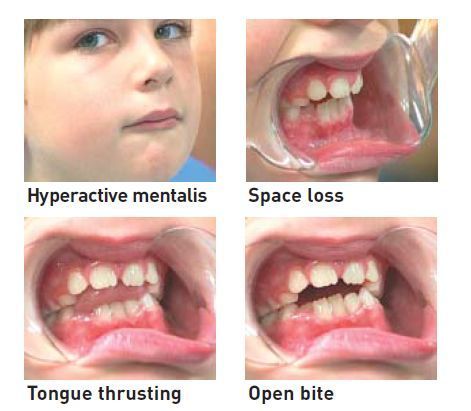 Myobrace®: Orthodontics Without Braces in Loma Linda, CA
The Myobrace System™ is based on over 20 years of experience in correcting orthodontic problems without the need for braces. The Myobrace appliances which make up this system have the proven dual function of correcting the oral habits that cause poor dental development (known as myofunctional habits), while also providing light forces to align the teeth into their natural position. This technique is now used by Orthodontists and Dentists in more than 100 countries throughout the world.
These appliances are designed to be used in-sequence to effectively train the tongue to position correctly in the upper jaw, retrain the oral musculature and exert light forces to align the teeth.
Myobrace treatment does not involve wearing braces or using complex and uncomfortable dental appliances 24 hours a day, seven days a week. Wearing a Myobrace appliance for one to two hours each day and overnight while sleeping, combined with a series of 'myofunctional exercises' (also known as the Trainer Activities) each day is all that is required in the treatment process. In a small number of cases, fixed braces may be required for a short time to provide optimal alignment.
The Myobrace System differs from other orthodontic forms of treatment as it is not only aimed at straightening the teeth, but is primarily directed at correcting the causes of crooked teeth and underdeveloped jaws. This works best for patients who are still growing, around the ages of six to ten. Effective treatment can be done outside of these ages, but habits become harder to correct in older patients.
Source
Dr. Sohn's office is equipped with the latest in hi-tech dental equipment and our staff is trained to provide the best possible dental experience for you and your family. We take pride in the service we provide to our patients from Loma Linda. If you have any questions, concerns, or would like to schedule an appointment, please send us a message via the Contact Us form today. We look forward to providing you with the personal oral care you deserve.